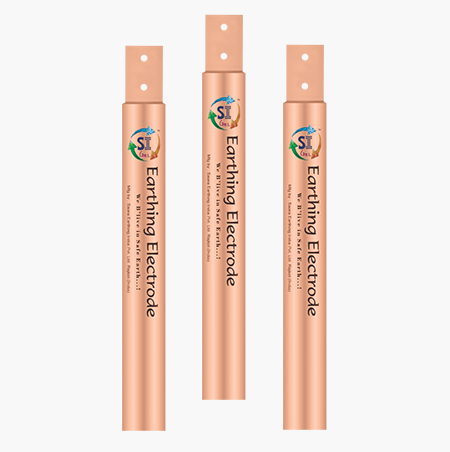 Maintenance Free Copper Earthing Electrodes
Saara Earthing India Pvt. Ltd offers Copper Earth Electrodes, which is an electrical system to make a connection with the ground and conductive electrode hidden deep in the ground, which is linked to the exposed metal parts of the equipment. It is designed in a such way so that they can easily direct the fault current to the ground.
Chemical Earthing also takes care of all the safety devices such as MCB MCCB trip, along with the disconnection of power that makes faulty equipment's risk-free. These are the two prime reasons that assure the proper Earthing and installation of chemical Earthing system.
With the advancement in technology problems Copper Grounding Electrode was introduced which technically removed all the problems associated with the traditional grounding systems and hence revolutionized the way of Copper Earthing.
Harnessing this technology, we also offer end to end solutions of safe and secure Earthing. We bring forward a large collection of maintenance free copper grounding system that makes us a major safe Copper Earthing Electrode Manufacturer.
Made of Electrolyte Class raw material which is connected to the equipment by strips and other accessories.
We use special compounds to fill up the earth-pit, in the region of the Copper electrode,
Product is a fine blend of innovation and cutting edge technology.
Provide an unbelievably longer operational life of 20-30 years.
Efficient Grounding Systems reduce the risk of electrical arcing and fires. The Saara's Copper Earthing Electrode improves reliability for many applications, including:

Lightning protection systems.
Prevention of accidents caused by static charge and stray currents.
Protection of central communications, electronics, and AC power systems.
Meeting grounding safety requirements for electrical substations.
Ground fault neutralization.
Safeguarding critical instrumentation and process control equipment.
Petrochemical, LNG
Nuclear Facilities
Data Center
Telecom
Broadcasters Process Control and Automation
Hospitals
911 Centers Government
Military and Defense Installations
T&D Operations
Substations
Wind Turbines
| Models | Electrode Diameter (MM) | Length (MM) | Internal Strip Size (MM) | Connection Terminal Hole Die (MM)x No. of Hole | M.O.C | Compound Filled(CCM) |
| --- | --- | --- | --- | --- | --- | --- |
| SICU 50/2 | 50 | 2000 | 40 X 03 | 10 X 02 | Cu | |
| SICU 50/3 | 50 | 3000 | 40 X 03 | 10 X 02 | Cu | |
| SICU 60/2 | 63 | 2000 | 50 X 03 | 12 X 02 | Cu | |
| SICU 60/3 | 63 | 3000 | 50 X 03 | 12 X 02 | Cu | |
| SICU 80/2 | 76 | 2000 | 50 X 06 | 14 X 02 | Cu | |
| SICU 80/3 | 76 | 3000 | 50 X 06 | 14 X 02 | Cu | |