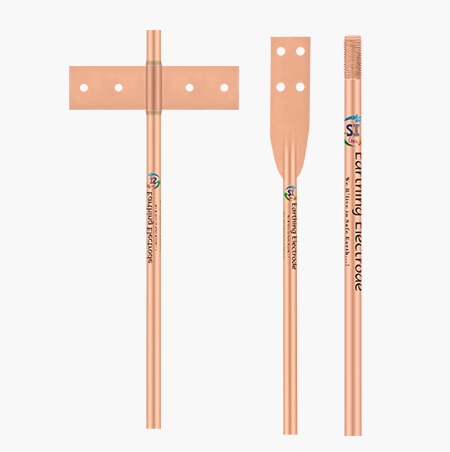 Copper Bonded Rods
The Copper Bonded Rods that are manufactured at Saara Earthing Pvt. Ltd are made from high tensile steel and each rod is molecularly bonded with 99.9% pure electrolytic copper on the low carbon steel rod in accordance with international standard such as UL
These Copper Bonded Rods give high protection against corrosion and electrochemical reaction when buried in the ground.
For deep driving to depths, it is necessary to obtain good conducting level for uniform low-resistance grounds. The features are same as of Copper Bonded Rods or Copper Plated Rods for Earthing. Cold-rolled threads at each end for joining the various lengths of rods together with couplings or Dowel. Cold-rolled threads which are stronger than cut threads provide the added strength of continuous, unbroken grain flows.
Advanced features
Long-lasting & maintenance free hazards of copper coated rods
Unique manufacturing process ensures uniform coating thickness
Easy to install and unbreakable
Corrosion free while providing the lowest resistance to ground
Very economical to use
Cost-effective:

Being the manufacturer of copper bonded earth rods, we have full control over the quality, design and the price of the products.

Customization:

We customize all our grounding rods in the shortest possible time

Exceptional delivery time:

Well-known for delivering our services in minimum feasible time

Using the right Technology:

A unique amalgamation of the latest technologies along with effective engineering skills.
CNC Machine
Lightning Protection System
Power generators
Solar system
Telecommunication Towers
Microwave Antennas
Transmission and power generators
Substations
Equipment Body Earthing
Computer and Data Processing Centers
Manufacturing Facilities and Refineries
| Ground Rod Diameter, Nominal | Ground Rod Diameter, ActualØ | Thread SizeTS | LengthL | Plating Thickness | Unit Weight |
| --- | --- | --- | --- | --- | --- |
| 1/2" | 12.8 mm | 9/16 UNC | 1,200 mm | 254 µm | 1.2 kg |
| 1/2" | 12.8 mm | 9/16 UNC | 1,500 mm | 254 µm | 1.6 kg |
| 1/2" | 12.8 mm | 9/16 UNC | 1,800 mm | 254 µm | 1.9 kg |
| 1/2" | 12.8 mm | 9/16 UNC | 2,400 mm | 254 µm | 2.4 kg |
| 1/2" | 12.8 mm | 9/16 UNC | 3,100 mm | 254 µm | 3.1 kg |
| 1/2" | 12.8 mm | 9/16 UNC | 3,100 mm | 330 µm | 3.2 kg |
| 5/8" | 14.2 mm | 5/8 UNC | 900 mm | 254 µm | 1.2 kg |
| 5/8" | 14.2 mm | 5/8 UNC | 1,200 mm | 254 µm | 1.5 kg |
| 5/8" | 14.2 mm | 5/8 UNC | 1,200 mm | 330 µm | 1.5 kg |
| 5/8" | 14.2 mm | 5/8 UNC | 1,500 mm | 254 µm | 1.9 kg |
| 5/8" | 14.2 mm | 5/8 UNC | 1,800 mm | 254 µm | 2.3 kg |
| 5/8" | 14.2 mm | 5/8 UNC | 2,100 mm | 254 µm | 2.9 kg |
| 5/8" | 14.2 mm | 5/8 UNC | 2,400 mm | 254 µm | 3.0 kg |
| 5/8" | 14.2 mm | 5/8 UNC | 2,400 mm | 330 µm | 3.0 kg |
| 5/8" | 14.2 mm | 5/8 UNC | 3,100 mm | 254 µm | 3.8 kg |
| 5/8" | 14.2 mm | 5/8 UNC | 3,100 mm | 330 µm | 3.9 kg |
| 3/4" | 17.3 mm | 3/4 UNC | 900 mm | 254 µm | 1.7 kg |
| 3/4" | 17.3 mm | 3/4 UNC | 1,200 mm | 254 µm | 2.2 kg |
| 3/4" | 17.3 mm | 3/4 UNC | 1,500 mm | 254 µm | 2.8 kg |
| 3/4" | 17.3 mm | 3/4 UNC | 1,800 mm | 254 µm | 3.2 kg |
| 3/4" | 17.3 mm | 3/4 UNC | 1,800 mm | 330 µm | 3.2 kg |
| 3/4" | 17.3 mm | 3/4 UNC | 2,100 mm | 254 µm | 3.9 kg |
| 3/4" | 17.3 mm | 3/4 UNC | 2,400 mm | 254 µm | 4.4 kg |
| 3/4" | 17.3 mm | 3/4 UNC | 3,000 mm | 330 µm | 5.7 kg |
| 3/4" | 17.3 mm | 3/4 UNC | 3,100 mm | 254 µm | 5.7 kg |
| 3/4" | 17.3 mm | 3/4 UNC | 4,600 mm | 254 µm | 8.5 kg |
| 1" | 23.2 mm | 1 UNC | 3,000 mm | 254 µm | 10.0 kg |
These Copper Bonded Rods are available in various sizes and shape like
One end pointed and the other end threaded to extend
One end pointed and the other end un-threaded.
Two end threaded
One end pointed
Apart from the standard model, these Rods are available in customized sizes, length and copper thickness
Applications
CNC Machine
Lightning Protection System
Power generators
Solar system
Telecommunication Towers
Microwave Antennas
Transmission and power generators
Substations
Equipment Body Earthing
Computer and Data Processing Centers
Manufacturing Facilities and Refineries
| Ground Rod Diameter, Nominal | Ground Rod Diameter, ActualØ | Thread SizeTS | LengthL | Plating Thickness | Unit Weight |
| --- | --- | --- | --- | --- | --- |
| 1/2" | 12.8 mm | 9/16 UNC | 1,200 mm | 254 µm | 1.2 kg |
| 1/2" | 12.8 mm | 9/16 UNC | 1,500 mm | 254 µm | 1.6 kg |
| 1/2" | 12.8 mm | 9/16 UNC | 1,800 mm | 254 µm | 1.9 kg |
| 1/2" | 12.8 mm | 9/16 UNC | 2,400 mm | 254 µm | 2.4 kg |
| 1/2" | 12.8 mm | 9/16 UNC | 3,100 mm | 254 µm | 3.1 kg |
| 1/2" | 12.8 mm | 9/16 UNC | 3,100 mm | 330 µm | 3.2 kg |
| 5/8" | 14.2 mm | 5/8 UNC | 900 mm | 254 µm | 1.2 kg |
| 5/8" | 14.2 mm | 5/8 UNC | 1,200 mm | 254 µm | 1.5 kg |
| 5/8" | 14.2 mm | 5/8 UNC | 1,200 mm | 330 µm | 1.5 kg |
| 5/8" | 14.2 mm | 5/8 UNC | 1,500 mm | 254 µm | 1.9 kg |
| 5/8" | 14.2 mm | 5/8 UNC | 1,800 mm | 254 µm | 2.3 kg |
| 5/8" | 14.2 mm | 5/8 UNC | 2,100 mm | 254 µm | 2.9 kg |
| 5/8" | 14.2 mm | 5/8 UNC | 2,400 mm | 254 µm | 3.0 kg |
| 5/8" | 14.2 mm | 5/8 UNC | 2,400 mm | 330 µm | 3.0 kg |
| 5/8" | 14.2 mm | 5/8 UNC | 3,100 mm | 254 µm | 3.8 kg |
| 5/8" | 14.2 mm | 5/8 UNC | 3,100 mm | 330 µm | 3.9 kg |
| 3/4" | 17.3 mm | 3/4 UNC | 900 mm | 254 µm | 1.7 kg |
| 3/4" | 17.3 mm | 3/4 UNC | 1,200 mm | 254 µm | 2.2 kg |
| 3/4" | 17.3 mm | 3/4 UNC | 1,500 mm | 254 µm | 2.8 kg |
| 3/4" | 17.3 mm | 3/4 UNC | 1,800 mm | 254 µm | 3.2 kg |
| 3/4" | 17.3 mm | 3/4 UNC | 1,800 mm | 330 µm | 3.2 kg |
| 3/4" | 17.3 mm | 3/4 UNC | 2,100 mm | 254 µm | 3.9 kg |
| 3/4" | 17.3 mm | 3/4 UNC | 2,400 mm | 254 µm | 4.4 kg |
| 3/4" | 17.3 mm | 3/4 UNC | 3,000 mm | 330 µm | 5.7 kg |
| 3/4" | 17.3 mm | 3/4 UNC | 3,100 mm | 254 µm | 5.7 kg |
| 3/4" | 17.3 mm | 3/4 UNC | 4,600 mm | 254 µm | 8.5 kg |
| 1" | 23.2 mm | 1 UNC | 3,000 mm | 254 µm | 10.0 kg |