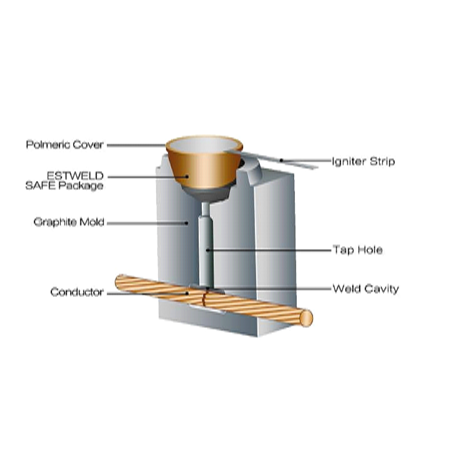 Molecular Safe System
Continuing the tradition of technical leadership, ESTWELD® SAFE was developed as a simplified method of performing exothermically welded electrical connections.
This trusted system now features a new ESTWELD SAFE cup design for the integrated welding material package which has streamlined the installation process by eliminat- ing ignition materials.
The tamper proof, integrated welding material package consists of a copper cup containing ESTWELD® SAFE patented welding material alloys and an ignition source.
This newly shaped welding material package is designed for use in all standard ESTWELD® SAFE molds. Once placed in the ESTWELD® SAFE mold, the welding material is electronically ignited using a simple battery-powered control unit with a six-foot lead.
Consists of a tamper proof, disposable moisture-resistant welding material cup. The welding material, disk and ignition source are incorporated into the self-contained package
Long shelf life
Completes welds at distances of up to 6 ft/1.8 meters (can be extended)
Requires minimum components – no starting material, no disks, no flint igniters
Easy to handle, store and transport – by air, land or sea in unlimited quantities
Reduces installation time by 20%
Has safety-certified electronic igniter is designed for 500 connections with one set of 8 standard AA batteries (included) – requiring no special batteries or chargers
Designed for use in standard ESTWELD® SAFE molds
Integrated Welding Material Package
Electronic Control Unit
Replaceable Six foot or lengthenable Control Unit Lead
Smoke Filter Mold
Simplifies training and set up
Saves labor
Simplifies cleaning
No starting material required
Easy ignition
Increased flexibility in hard to reach areas
Prevent sparks and produce minimal smoke
Can be used in a specific place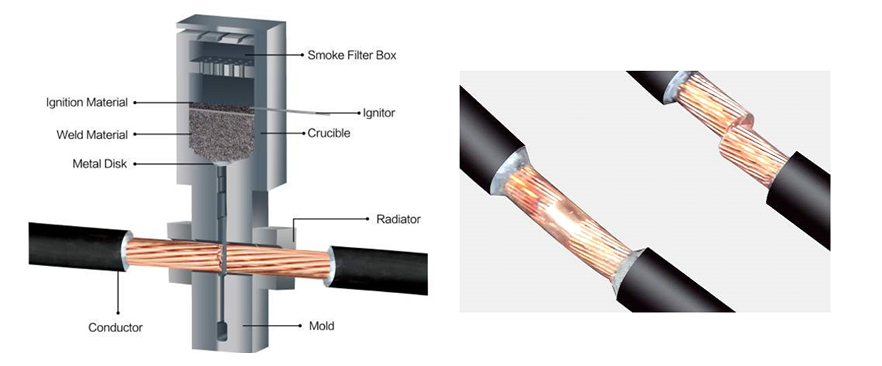 ESTWELD® SAFE high-voltage welding system can weld different sections copper cables.
ESTWELD® SAFE connections can be made easily with minimal training.
ESTWELD® SAFE weld is small –handling is simple after welding
Specially designed weld profile for high-voltage applications.
No external power or heat source required. Has a current carrying capacity equal to that of the conductor.
Permanent molecular bond will not deteriorate with age, cannot loosen or corrode.
Will withstand repeated faults, is made with lightweight equipment, has low labor cost and is time saving on jobsites.